The Courier Mail, Q-Weekend Brisbane, 28 August 2010.
Ordinary People
Priscilla Sutton, 31, Public Servant, Herston
I was 24 when I decided to have my right leg amputated, but I was 26 when I did it. I was born with a bone condition that meant my right foot was quite small and the leg was extremely thin and about 6cm shorter than my left. The doctors wanted to amputate below the knee when I was a child but my mum always said it would be my decision. I decided to go ahead with it when I was living in Tokyo.
I work in IT as a business analyst for Queensland Health these days but at the time I was working in the music industry and was in Japan helping local artists record their songs in English. Because you tend to walk everywhere in Tokyo, my foot was becoming quite painful. I was crying as I walked to the train station to go home at night, so I thought, okay, it's time. I returned to Australia and consulted doctors and they were all positive about the procedure and the improvement it would make to my life, so I went ahead.
I was working at [Brisbane live music venue] The Zoo at the time and my boss suggested we throw a foot farewell party. The invitation was a copy of an X-ray of my foot and my boss made gingerbread men with the right leg cut off, and we invited some of my favourite bands to perform. It was a fundraiser for me but it also turned out to be a really great way for people to have a relaxed dialogue about the amputation and feel they could ask questions. I've kept that theme going – every year on the anniversary of the amputation, my friends and I have a dinner party to remember my leg.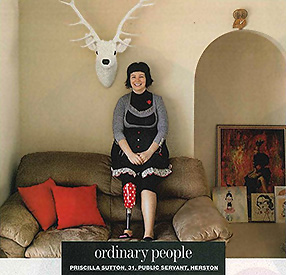 My latest prosthetic leg stands out because the calf is red with white polka dots. I'd originally chosen black but swapped at the last minute because I was sitting next to a five-year-old girl who was so excited about getting a Dora the Explorer leg. I thought, stuff black! When I pass kids in the supermarket aisle now they're like, "look at that lady's polka dot leg!" which is pretty cute. Often their parent will grab their arm and say "don't stare!" but the kids are usually just looking in awe. I'll smile and go "Hi!"
I've got a flesh-coloured leg for when I want to blend in. I call that my "date leg", which everyone things is pretty funny. I found a couple of my old prosthetics during a spring clean, which inspired an idea for an exhibition. I've brought together about 40 diverse artists who are all using pre-loved prosthetic body parts – hands, arms, legs, eyes, skin – as their canvas. It'll be at the Brisbane Powerhouse [at New Farm] from November 9. I've called it "Spare Parts".
AMANDA WATT