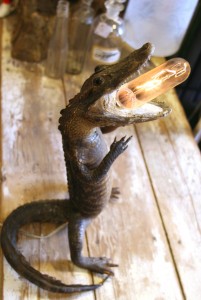 From Chicago, IL, USA.
Adam Rust has been making art since he learned to draw as a kid.  He began gaining some notoriety producing a daily political satire comic strip that appeared in a local independent newspaper, while studying at the University of Wisconsin at Madison. Cartooning became a passion that soon lead to being a regular contributing artist, writer and lampooner for publications such as Mad Magazine, Hustler Magazine and The Funny Times.
In the early 2000's Rust earned a Master of Fine Arts Degree from Columbia College Chicago. While in Chicago, his graphic work evolved into sculptural and full-scale installation formats. Physical material had always been important to his process, and he now revels in the exploitation of alternative, yet very real, and even abject components to express his objective. His greatest productions result when employing the use of dead animals, road kill, taxidermy, food products, fetuses or eggs as primary constructive sources.
Currently, Adam and his wife own and operate 'Woolly Mammoth,' Chicago's premier antiques and oddities shop. Woolly Mammoth has become something of a contemporary salon in the local arts scene, a bizarre little boutique that also functions as an ever-evolving art installation and gallery. On any given day the shop can be found offering vintage taxidermy, medical oddities, skulls, bones, scientific relics, natural wonders, memento mori, fossils, specimens, Americana, and unique collectibles.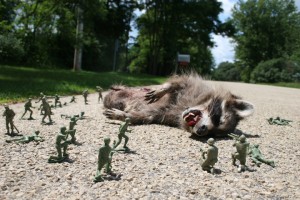 Its specialties however are the results of Rust's constant experimentation with new, old, and unexpected objects and ideas, such as lamps made from stuffed fish or antique taxidermy alligators, or vitrines that display anthropomorphic taxidermy. He is regularly in the studio rewiring vintage animatronics and restoring antique pinball games, or splicing together more vintage taxidermy mounts in the creation of fictitious beasts and making lamps out of prosthetics. Woolly Mammoth has received much local and national attention with appearances and write-ups in cable television antique themed programs, The Chicago Tribune, The Chicago Reader, Time Out Chicago, Martha Stewart Living Magazine, and multiple other local television shows and publications.