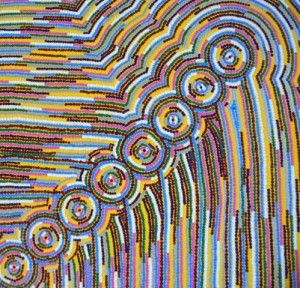 From Brisbane, Australia
Elisa Jane Carmichael is a descendant of the Ngugi people with strong family ties across Quandamooka waters and Minjerribah – North Stradbroke Island.
She is a graduate of the Queensland College of Art at Griffith University, and recently exhibited her first solo collection in leading UK fashion designer Paul Smith's store at Heathrow Airport T5.
Elisa has been exhibiting throughout London for the past year and has also showed at the London O2 Arena. She was selected to perform in a group performance at Tate Modern Gallery for New York feminist artist, Emily Roysdon.
Before moving to the UK she worked on an exhibition on Oodgeroo Noonuccal and exhibited with her collection.
Elisa develops canvases using colours from every spectrum, creating works which are full of life displaying the cultural and spiritual connection her people share with Mother Earth, Father Sky, The Salt Water Country, the environment and nature.
Elisa currently lives and works in London.