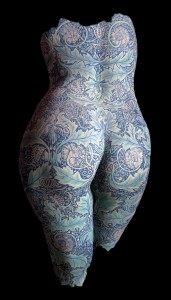 From: Kent, UK
Website: www.mastersandmunn.co.uk
Artists CJ Munn & Andre Masters are partners in life as well as work, and combine their talents to create bespoke sculptures in an exotic array of materials from copper to leather in their home studio in Kent, UK.
Masters & Munn originally met on a life-casting forum on the internet through their shared passion for unusual art forms, and began collaborating on larger projects where they found they worked incredibly well together and their range of skills and interests overlapped beautifully. Their website shows the incredible diversity of their talents and styles both combined and individual and for this summer's Spare Parts exhibition in London, they have created individual pieces that reflect two different themes very close to their hearts.
André's background was originally as a modelmaker for film and television, working in every conceivable material and honing his skills in creative techniques from ancient times right through to the most state of the art material technologies. His early inspiration included an avid interest in the fantasy worlds of Jules Verne – where dark Victorian drama blends seamlessly with a vision of the future powered by steam. His new creation for Spare Parts 2012, entitled "Dr Lauchlan Thackwell-James' Mechanical Arm-O-Matic" is named in honour of the person who donated the original limb to the Spare Parts project; and is a Steampunk fanatic's dream with over 170 new parts being added to the original prosthesis in a combination of copper, steel, leather, glass and rubber.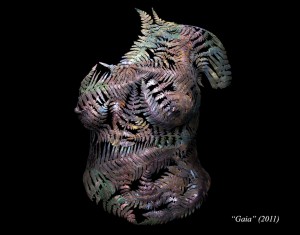 Copper remains one of André's favourite materials to work in, and the couple are most well known for the 9 life size copper nude sculptures featured in Thomas Hoblyn's award-winning Chelsea Flower Show garden of 2010. Recent commissions include casting a live elephant, creating a bespoke puppet for iconic singer/songwriter Kate Bush, and custom-making fantasy glass weaponry for an international corporation.
CJ's piece was inspired by her passion for Victorian pattern design and the romance of the Regency Period the century before. Having grown up as the daughter of two artists in the Kent countryside where everything was both handmade and beautiful, CJ developed a fondness for intricate detail; a quintessentially English "prettiness" in her work that enables her to lose herself in the making process and be comforted by the styles from times past. Her Spare Parts creation, "Pride and Prejudice" is the 10th piece in the "William Morris-inspired Collection" that has already attracted a lot of attention following the final of the BBC's "Show Me the Monet" competition, where CJ was chosen as one of the 35 top new talents in British art. Masters & Munn will also be seen in the new Sky Arts' tv series "Objects of Desire" where their work is featured amongst some of the world's most desirable objects such as David Bailey's photographs, Aston Martin Cars and Manolo Blahnik shoes.
Masters & Munn sculptures can be commissioned through their website www.mastersandmunn.co.uk where you can also view a range of their existing available work.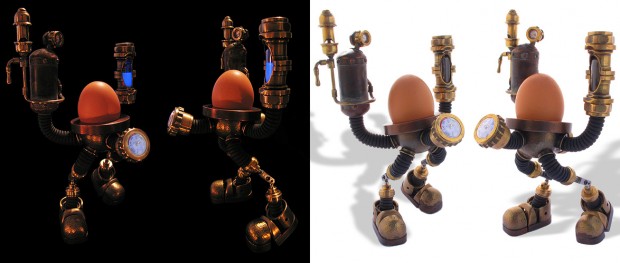 writing an essay help