Brisbane Times article, Tuesday 22 May 2012. "New lease of life for London-bound limbs" Written by Courtney Becht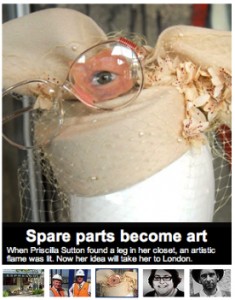 When Priscilla Sutton found a leg in her closet, an artistic flame was ignited.
Now, she is bound for London, drawn to the British capital by a more literal flame – that of the Paralympic Games.
Ms Sutton's Spare Parts art exhibition will feature discarded prosthetic limbs, reconceived in ways limited only by the imagination.
"In early 2010, I was cleaning out a cupboard at home and found some of my old prosthetic legs," said Ms Sutton, who chose to have her right leg amputated below the knee when she was 26 because of a debilitating bone condition.
"Some of us amputees find it hard to chuck them out when they have been superseded.
"They become such an important part of your everyday life that chucking them out just doesn't seem right. So we collect them.
"I thought about getting one of my creative friends to do something with them to make them into artworks for my wall at home. That way I could keep them, but then I couldn't decide which creative friend to ask, and the idea grew from there."
Ms Sutton said she was taking Spare Parts to London during the Paralympics to keep the "positive conversations about prosthetics growing" and to make the most of a captured audience.
"I think the Paralympics are a very inspiring time for many people, and everyone gets interested in prosthetics and what amazing achievements can be made using them," she said.
The London exhibition, Spare Parts 2012, will be held between August 25 and September 9 during the Paralympics and artists all over the world are working on getting their art pieces ready for the independently run event.
"This year I will have a space dedicated to the story of Spare Parts, a photography component with amputees wearing limbs with outstanding cosmetics, about five legs from 2010 and the rest are all new limbs," she said.
"The first exhibitions didn't just attract amputees but so many people who were just intrigued. People who had never seen a prosthetic up close, art lovers who wanted to see their favourite artists do something so different."
Ms Sutton said Spare Parts was a chance to educate people about prosthetics and create a "positive conversation" about prosthetics and amputees.
"It was just a fun project for me at first, but that little idea that started from doing some spring cleaning turned out to be pretty special," she said.
"It's like secret education – teaching people all about prosthetics through the wonders of visual art."
Ms Sutton said a lot of amputees found it therapeutic to donate their old limbs.
"Some amputees were really inspired to start doing creative things with their own legs, which is really cool. I really like to promote wearable art as well as recycling old limbs into artworks," she said.
"Prosthetic pride is very important."
To make Spare Parts 2012 possible, a benefit show will be held at The Zoo in Fortitude Valley on June 7.
Along with music acts, such as The Good Ship, Danny Widdicombe and Tylea, prosthetic art will be on display.
Tickets cost $12 and can be purchased in advance from www.thezoo.com.au or from the door on the night.
Brisbane fashion label Dogstar will also have a market day at the Woolloongabba studio on June 17.
For more information, visit www.spareparts2012.com