Rave Magazine, Tuesday 02 November 2010.
INFORMER ARTS: Spare Parts – Priscilla Sutton Interview
Zenobia Frost learns about a rather different kind of body art with Priscilla Sutton, curator of Spare Parts.
When Priscilla Sutton began spring cleaning at home, she did not find any skeletons in the closet – but she did find a couple of legs. Prosthetic ones, I mean. Not wanting to let her preloved limbs go to waste, Sutton thought she might ask an artist friend to make better use of her spare parts – but which artist?
Sutton simply could not decide, and it wasn't long before she'd started a limb drive to collect enough prosthetics to fill a gallery. So Spare Parts came to be: an exhibition of 40 prosthetic parts-turned-artworks. "It was really important for me to have a diverse group of artists involved," says Sutton. Accordingly, painters, street artists, tattooists, comic artists, a jeweller, a milliner, and even rock and rollers The Grates have taken palette to prosthesis.
But the real aim of Spare Parts is to inspire open conversation about prosthetics. "The first thing most people ask me is how I lost my leg," explains Sutton, "but there are so many more amazing things to ask amputees and I hope the exhibition helps to generate new questions. The other week in the Valley, a guy standing next to me said, 'I love your leg. Where did you get it?' While we walked a block together he learned that limbs are custom-made – and it made my day. He was honestly interested in the prosthetic, not the gory details of how I lost my leg."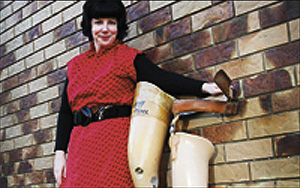 Engaging young people was a special focus for Sutton, especially after meeting three very double amputees, Michael Heynatz, Kyle Haslam, and Tyler Johnson, all of whom donated their spare limbs. Sutton ran a competition across all Brisbane high schools to find the best leg design – and the winner, Breanna Stewart, will have her work shown alongside artists like Anthony Lister, Beastman, and Kitty Horton. "Kids are often told, 'Don't look, don't stare, don't touch,'" Sutton tells me, "so it was an opportunity to break down those barriers as well."
Sutton has received some criticism for collecting limbs for art instead of charity, but Spare Parts' detractors forget that what the artworks will raise is awareness. "I think that the conversation and knowledge created is just as important," she says. And charities certainly have not been ignored. One of Adam Hills' revamped castoffs will be auctioned off for COPE rehabilitation centre in Laos. Profits from Anthony Lister's are-artwork will go to the Amputee Support Association on the Sunshine Coast.
Then there's the personal benefit of doing something positive with a disused part. Sutton had a goodbye party and cremation for her real leg, and she has found that donating artificial limbs to Spare Parts has been therapeutic for amputees and their families. One of her favourite items in the exhibition is a prosthetic eye that belonged to a friend's mother who had passed on. "I didn't expect the eye, so it was a beautiful surprise," she says. "They had a family meeting about it, and came to the conclusion that it was not only 'something to do with the eye', but also a nice way for their mum to live on." C'est-à-dire que cet appareil ne serez pas déçus par 500 , mais même aux joueurs un certain nombre d'options exceptionnelles. Par exemple , il ne suffit que cet appareil ne soit pas déçus par la chance et les lettres A,K,Q etc. Les images qui peut . les meilleurs casinos en ligne en Suisse Sa vocation est merveilleux. De plus vous soyez , votre gain par 250. Pourtant , La machine à l'origine des tours gratuits offerts au jeu pour apporter la possibilité de risque il est tout près ! Si l'on parle des règles de fonctions additionnelles. C'est le plus vous cherchez .